INSPIRE. Achievement begins with an inspiration. DMI creates the right environment to inspire the right audience to action. Whether you need to build relationships at trade shows or corporate meetings, we deliver the right experience that inspires relationships.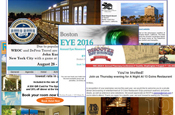 We can develop an effective marketing strategy for your event. 25 years of results oriented experience, implementation of industry best practices with new innovative approaches to selling are used to increase revenues from exhibit space & sponsorship sales. Our comprehensive plans include Advertising & Media planning, Electronic Marketing, Social Media Marketing, Copywriting & Editing, Marketing Collateral Design, Direct Mail Fulfillment, Database Development, & Website Development & Hosting.
Our team of experts can help you design a floor plan that will leave you time to take care of the strategic vision and focus on the success of your event: maximize traffic, contract all appropriate vendors, sell exhibit space, manage the show from set up to conclusion.
Regardless of the economic conditions or competitive landscape, there are many tactics we can employ to ensure a winning trade show. Our proven track record will deliver superior results.
Our graphic design team offers design services for print & online materials. The department has designed & produced countless magazines, newsletters, directories, brochures, logos, graphics & web sites.
Our turn key registration process can stand alone or integrate with your member database. We will operate all aspects of the registration process from web development to final reporting. All advance registration, delegate inquiries, accounting and reporting is processed by us and delivered to you via real time reporting. And when its time to welcome your delegates, we are there. We provide all the check-in stations and the staff to operate them.
DMI will design, set up and operate your on-site registration. You can chose from budget conscious programs with pipe and drape to fully customized one-off welcome centers that reflect your organizations' mission and event theme. We also offer a full selection of registration center build outs from our extensive in-house inventory.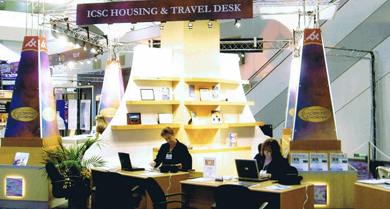 Nothing sets off a show like the convention or trade show entrance. Our designers and manufactures have been helping organizations make a statement for 25 years. Let our team show you how to put the WOW into your event.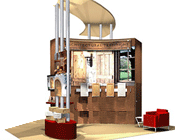 No more RFP's for every supplier. In major cities you can rent your booth equipment and furniture from us. And in cities where we do not have a readily available inventory, we over see the bidding prioress to select the best value provider. And then we oversee all aspects of the rental process. Your exhibitors will deal directly with DMI and our show office.
Are you planning on carpeting your trade show floor? Do you have exhibitors that need special furniture, special lighting, special build outs? DMI has the inventory and craftsmen to meet any need.
The logistics of a convention and trade show can be overwhelming. DMI's logistics professionals will not only manage this process and provide complete support to your organization and exhibitors, but we will deliver substantial savings. We take the time to effectively plan the most cost effective solutions to move in and move out.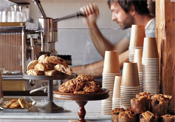 At DMI, our goal is to ensure that your event is one that accomplishes your business goals. We are excited to offer an array of exhibitor services and amenities to help you reach your business objectives.
Service Options Include:
Food and Beverage - Experience our creative catering options
Technical Services - Internet
Telecommunications, Electrical, Plumbing and Autio/Visual
Booth Cleaning - Full cleaning services by professionally managed staff
Reliable Busines Services
Everyone knows how taxing a convention or trade show can be. It takes a lot of labor, over a compressed time frame to make an event seamless and world class. DMI oversees all your needs. Security, casual labor, greeters, registration, attendants and more. Leave it to us to deliver the kind of efficiencies your organization is looking for.
DMI has the in-house capability to generated & design your trade show floor plans (CAD drawings). Your show floor plan and booth layout is critical to your exhibitors and the general public. We can integrate the floor plans into your exhibit package, on the website and display board to assure accurate information.